Many of us want to wear them but some of us just don't know how. Many of us are afraid to try because we think that you have to be a certain body type to look good in a jumpsuit. Some of us have tried and....well, failed. If worn properly, the right jumpsuit is an easy way to show confidence and effortless style. I often read what others have to say about current trends and how to properly achieve these looks. I thought I should share some of the tips I found most important along with a few pointers of my own for this trend. Here are a
few things to remember when looking for the jumpsuit perfect for you:
:::Show off your shape. Belting your jumpsuit or getting one that has a cinched or elastic waist is a must and a great way to avoid looking frumpy. No matter what your size, you need to be able to distinguish the different sections of your body. Unless you enjoy looking frumpy.
:::Flatter yourself. Let's just say you have great legs that you want to show off and a not so great mid section that you wouldn't mind hiding. Jumpsuits that are loose up top with a skinny leg/ankle would be great for this body type. Don't think so much about what you want to hide, focus on a feature you would like to accentuate and use this to find a jumpsuit that suits YOUR body type.
:::Mix it up. Let's not play the matching game with this one. Try your jumpsuit in various fabrics,colors and/or pattterns with different shoes and accessories. Some may want to dress up their jumpsuit with heels, others may want to dress theirs down. Do whatever makes you feel comfortable to achieve your desired look.
Whether you decide to go casual, LBJ (little black jumpsuit) sexy or 80's bold, I'm sure if you have paid enough attention to these tips you will look great for any outing.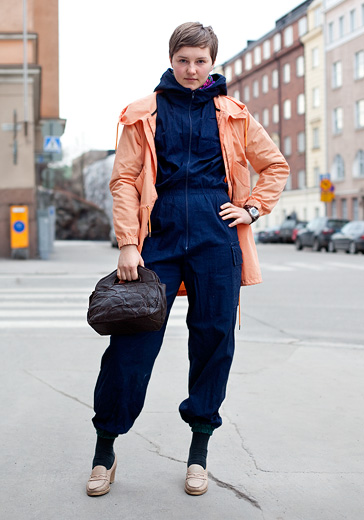 :::LBJ from Borough Vintage
1980s Anne Klein Jumpsuit